Cake Decorating guidance for green hand
If you wish to master cake decorating for beginners, equip yourself with patience and persistence. We have created a short beginner's guide on cake decorating essentials and the way you should use them.
Spatula Knife
Palette knife,this is a must for every person who wants to master cake decorating for beginners,If you are looking for a perfect frosting spatula to fit your hand and make the work easier,a compact small-sized piece will be better. Smaller spatula knives are easier to control and make cake decorating less challenging,A 13-inch blade offset spatula with a rounded tip and a non-slip handle is the perfect choice. It will serve as a replacement for many cake decorating and cake-making tools until you get the hang of the basics. Also, using a smaller blade spatula ensures precise and smoother moves. A palette knife is a multipurpose kitchen utensil since you can use it to apply and trim the frosting on the cake, create various effects on icing, ift the pastries, and spread fillings on sandwiches.
Cake Decorating Turntable
The ideal turntable should have a non-slip and sturdy base and spin smoothly. The spin function has to be reliable and rotate freely. The rotating surface on the turntable allows you to pipe and smooth the frosting, apply buttercream, and stick decorations on your cake easily.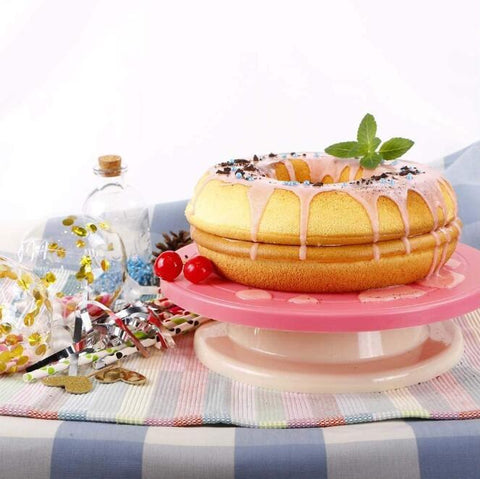 Pastry Bags
If you want to perfect your frosting technique, start with a small-sized icing bag with a rounded tip. Use a rubber spatula to insert the filling into the pastry bag. Fill  2/3 of the bag with frosting. To get rid of the air bubbles and form a paste that will flow steadily, use your hand and apply a small amount of pressure on the bag in order to push them out. Cake decorating for beginners requires time and patience to achieve the expected results, so you would want to start by slowly creating simple shapes.
Use Piping Gel
Since the piping gel is transparent, you can easily adjust it to any shade you want by using dry colorants rather than liquid ones. Combining piping gel with liquid colors doesn't guarantee consistency; it often gets watered down. You can use piping gel to bind all the components of a cake together. It can also serve as a stabilizer when you add it to whipped cream because it helps hold the whipped cream shape longer.
A Few More Decorating Supplies to Consider
A cake leveler will enable you to create impeccable frostings on your cake. By using a cake comb, you can upgrade the design of your cake by creating textured icing. Starting with a round piping nozzle, you can move to a star or a basket weave nozzle as you develop more skills in icing decorations. If you have something you can't go without in decorating cakes, do share it with us.